Issue #19
The Counter-Revolution of 1776, Our Declaration, Frederick Douglass, Nikole Hannah-Jones
This is The Dossier.
Each Sunday we deliver the latest developments in world affairs, political economy, and culture straight to your inbox, served with a generous side of soul.
We spend the week scouring the internets for essential information and meaningful content to keep you informed, inspired and mildly entertained.
Thurgood Marshall was born on July 2, 1908. Accepting the Liberty Award at Independence Hall on July 4, 1992, Marshall said:
But as I look around, I see not a Nation of unity but of division – Afro and White, indigenous and immigrant, rich and poor, educated and illiterate. Even many educated whites and successful Negroes have given up on integration and lost hope on equality...

But there is a price to be paid for division and isolation as recent events in California indicate. Look around. Can't you see the tension in Watts? Can't you feel the fear in Scarsdale? Can't you sense the alienation in Simi Valley? The despair in the South Bronx? The rage in Brooklyn?

We cannot play ostrich. Democracy just cannot flourish amid fear. Liberty cannot bloom amid hate. Justice cannot take root amid rage. America must get to work. In the chill climate in which we live, we must go against the prevailing wind. We must dissent from the indifference. We must dissent from the apathy. We must dissent from the fear, the hatred and the mistrust. We must dissent from a nation that has buried its head in the sand, waiting in vain for the needs of its poor, its elderly, and its sick to disappear and just blow away. We must dissent from a government that has left its young without jobs, education or hope. We must dissent from the poverty of vision and the absence of moral leadership. We must dissent because America can do better, because America has no choice but to do better.
---
📰 Toplines
Business Insider: The federal government extended the Paycheck Protection Program after $130 billion out of $660 billion went uncollected. Here's what new applicants need to know.
CNN: The US economy created 4.8 million jobs in June. But that's not the whole story
NYT: Netflix Moves $100 Million in Deposits to Bolster Black Banks
LA Times: Supreme Court liberals, with Roberts, strike down Louisiana abortion law
VOX:The Supreme Court just handed down some truly awful news for voting rights
POLITICO: Biden again blows by Trump in cash race
BBC: Jamal Khashoggi murder: Turkey puts 20 Saudis on trial in absentia
The Guardian: 166 die during protests after shooting of Ethiopian singer
NBC: Mississippi governor signs bill into law removing Confederate symbol from state flag
Denver Post: Read the full internal affairs report on the Aurora police department's Elijah McClain photo incident
Washington Post: With the help of WNBA star Maya Moore, Jonathan Irons is freed from prison
ESPN: Five-star college basketball recruit Makur Maker commits to Howard over UCLA
---
🎶 'Till victory is won
---
🦠 COVID-19 surges
Coronavirus infections surge in 40 states as the United States approaches 3,000,000 confirmed cases. Nearly 130,000 people in the US have died from COVID-19.
Globally, the World Health Organization reports 11,125,245 confirmed cases and 528,204 deaths.
Reuters: Florida, Texas post daily COVID-19 records as 'positivity' rates climb
Al Jazeera: Brazil dilutes mask law as its coronavirus cases top 1.5 million
Axios: 239 scientists call on WHO to recognize coronavirus as airborne
Washington Post: This coronavirus mutation has taken over the world. Scientists are trying to understand why.
NYT: The Fullest Look Yet at the Racial Inequity of Coronavirus
---
📚 The Counter-Revolution of 1776
Horne (Negro Comrades of the Crown), Moores Professor of history and African-American studies at the University of Houston, confidently and convincingly reconstructs the origin myth of the United States grounded in the context of slavery. He examines the forces pushing colonists to rebel against London, focusing specifically on the colonies' increasing dependence on the institution of slavery, and the increasing problems this very institution was causing for the Crown.
Gerald Horne's The Counter-Revolution of 1776 focuses on the motives of opponents and advocates of the international slave trade leading up to the Declaration of Independence by colonial subjects of the British Crown in 1776. Horne challenges the mainstream notions that colonists rebelled against the Crown merely due to dissatisfaction with imperial control and the issue of "taxation without representation." Rather, Horne suggests that the crux of the dispute between mainlanders and the Crown was over the continuation of the slave trade to North and South America, and the colonists' desire to monopolize it with reckless disregard for the lives of African captives brought in as enslaved laborers.

Patricia M. Muhammad in The Journal of African American History
The Counter-Revolution of 1776… argues that American patriots seceded to preserve slavery against the combined threat of English abolition and African rebellion. The landmark court decision freeing James Somerset in 1772 declared chattel slavery incompatible with English law and reinforced the fears among slaveholders that this "incipient abolitionism" (p. 158) might affect the colonies. The last straw came in 1775, when governor of Virginia Lord Dunmore offered to free the slaves who would desert their masters to fight for the king.

Horne's book joins a growing list of revisionist studies of the American Revolution, including Slave Nation: How Slavery United the Colonies and Sparked the American Revolution (2005), in which legal scholars Alfred and Ruth Blumrosen advanced a similar thesis. Yet what distinguishes Horne's argument is the omnipresence of black activity and militancy. British impulses to emancipate or enlist slaves responded to the actions of Africans themselves, who relentlessly attacked the colonists in arsons, poisonings, murders, and insurrections.

Yevan Erwan Terrien in Register of the Kentucky Historical Society
---
📚 Our Declaration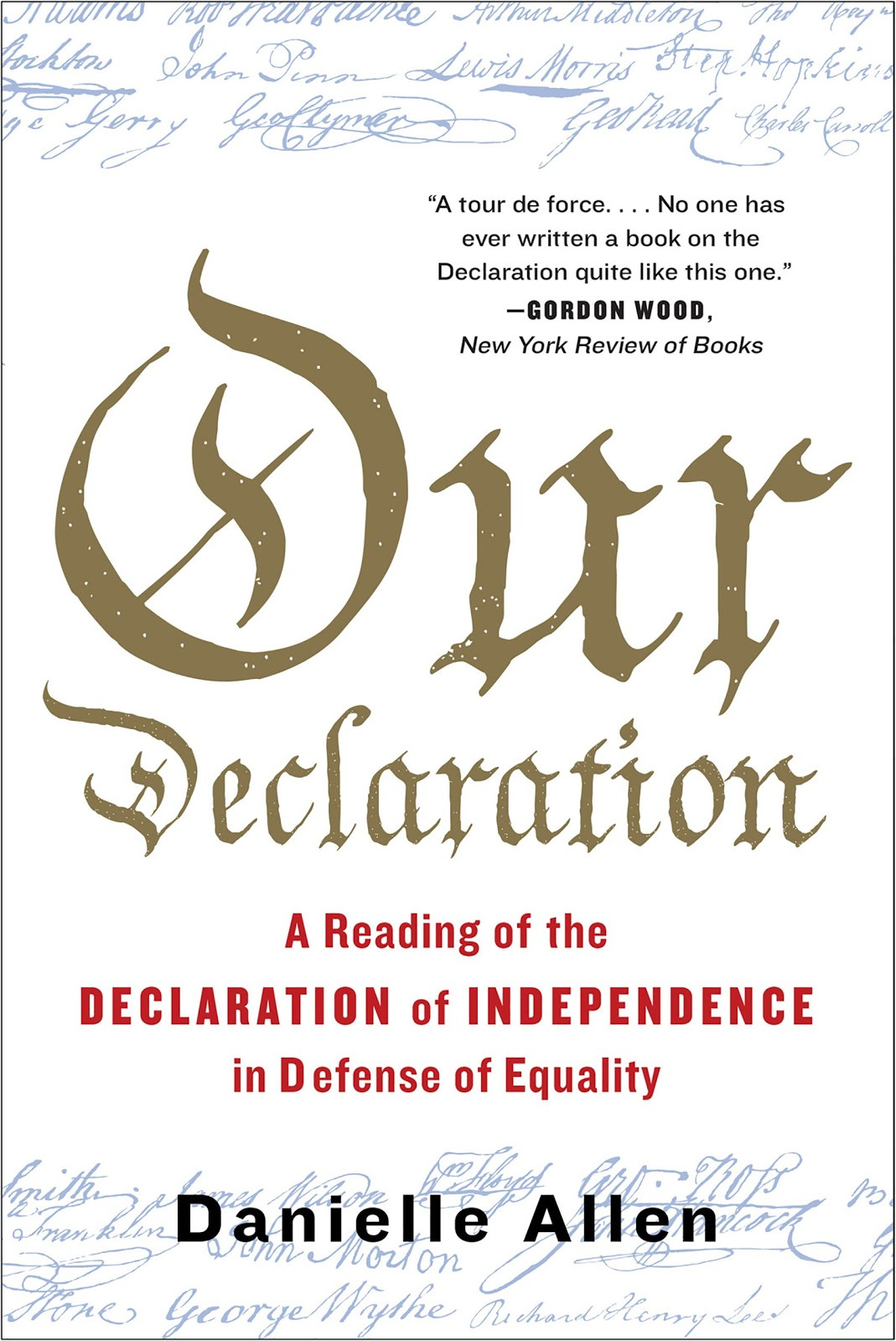 This book sets out to debunk the notion that freedom alone is the supreme virtue arising from the declaration. In doing so, it restores equality to the level of importance it once shared with freedom as equal partners in the revolution that gave birth to a nation. And Allen does not fail to address the limits of what equality meant to these founding white-skinned, land-owning fathers...

"Our Declaration" is not just an invaluable civics lesson but also a poignant personal memoir. Allen, her family and her students are characters in a post-American Revolution tale. The professor learned the mysteries of the declaration with the aid of her students, seeing in them the very embodiment of what the founding fathers wished to bequeath to future generations of Americans.
If we read the Declaration of Independence slowly and carefully, Danielle Allen believes, then the document can become a basic primer for our democracy. It can be something that all of us—not just scholars and educated elites but common ordinary people—can participate in, and should participate in if we want to be good democratic citizens.

Allen came to this extraordinary conclusion when she was teaching for a decade at the University of Chicago. But it was not the young bright-eyed undergraduates whom she taught by day who inspired her. Instead, it was the much older, life-tested adults whom she taught by night who created "the single most transformative experience" of her teaching career.

Gordon S. Wood in New York Review of Books
---
✊🏿 What to the Slave is the Fourth of July?
Fellow-citizens, pardon me, allow me to ask, why am I called upon to speak here to-day? What have I, or those I represent, to do with your national independence? Are the great principles of political freedom and of natural justice, embodied in that Declaration of Independence, extended to us? and am I, therefore, called upon to bring our humble offering to the national altar, and to confess the benefits and express devout gratitude for the blessings resulting from your independence to us?

... I say it with a sad sense of the disparity between us. I am not included within the pale of this glorious anniversary! Your high independence only reveals the immeasurable distance between us. The blessings in which you, this day, rejoice, are not enjoyed in common. — The rich inheritance of justice, liberty, prosperity and independence, bequeathed by your fathers, is shared by you, not by me. The sunlight that brought life and healing to you, has brought stripes and death to me. This Fourth [of] July is yours, not mine. You may rejoice, I must mourn. To drag a man in fetters into the grand illuminated temple of liberty, and call upon him to join you in joyous anthems, were inhuman mockery and sacrilegious irony.
---
🔥 The perfectors of this democracy
The United States is a nation founded on both an ideal and a lie. Our Declaration of Independence, approved on July 4, 1776, proclaims that "all men are created equal" and "endowed by their Creator with certain unalienable rights." But the white men who drafted those words did not believe them to be true for the hundreds of thousands of black people in their midst. "Life, Liberty and the pursuit of Happiness" did not apply to fully one-fifth of the country. Yet despite being violently denied the freedom and justice promised to all, black Americans believed fervently in the American creed. Through centuries of black resistance and protest, we have helped the country live up to its founding ideals. And not only for ourselves — black rights struggles paved the way for every other rights struggle, including women's and gay rights, immigrant and disability rights.

Without the idealistic, strenuous and patriotic efforts of black Americans, our democracy today would most likely look very different — it might not be a democracy at all.