This is The Dossier.
Each Sunday we deliver the latest developments in world affairs, political economy, and culture straight to your inbox, served with a generous side of soul.
We spend the week scouring the internets for essential information and meaningful content to keep you informed, inspired and mildly entertained.
60 years ago, on July 11, 1960, Harper Lee's To Kill a Mockingbird entered the American canon. Today, its longstanding ubiquity in middle school and high school reading lists requires further reflection.
In an interview with PBS NewsHour, Lisa Lucas, Executive Director of the National Book Foundation, had this to say:
I wonder if you were to ask African American people, if the book they want all of their children to read is To Kill A Mockingbird. It's not so much that I take total issue with the book. It's a fun book to read. It's smart. And it does have a very strong moral core in many ways. But it doesn't tell the whole story.

What I've always wanted in literature is more stories that show Black people in full relief. I don't want to look at one-dimensional Black characters in a book exploring race relations and then see every thought and feeling that the white characters have. And so where's the balance?

I think that we have to revisit each of the things that we've loved. And not necessarily throw them out. But to actually look at all of them and say "what do they mean together? What do they mean now?"
Lucas recommends pairing To Kill A Mockingbird with Jason Reynolds's Track series about four members of a middle school track team:
I'd love to see that kind of loving representation of Black life in America, with all of its attendant challenges, to showcase you're dealing with people. We can't keep seeing everyone as tropes. Anything that actually shows us as we are, in all the different ways we exist in the United States, is an important complement to To Kill A Mockingbird.
---
📰 Toplines
Bloomberg: U.S. Jobless Claims Fall While Corporate Cuts Signal More Pain

WSJ: Recession Forces Spending Cuts on States, Cities Hit by Coronavirus

Black Enterprise: Reps. Ayanna Pressley and Rashida Tlaib Announce the Breathe Act, Calling for Defunding Police, Reparations, and Universal Basic Income

Washington Post: Trump commutes sentence of confidant Roger Stone who was convicted of lying to Congress and witness tampering

NYT: Is This the End of New Pipelines?

NPR: ICE: Foreign Students Must Leave The U.S. If Their Colleges Go Online-Only This Fall

ESPN: Chiefs, Patrick Mahomes agree to $500m contract extension

Vox: Walmart's Amazon Prime competitor will launch in July

Newsweek: Armed Black Militia Challenges White Nationalists at Georgia's Stone Mountain Park
---
🦠 COVID-19
The World Health Organization (WHO) reports 12.5 million confirmed cases of COVID-19 globally.
In the U.S., there are nearly 3.3 million confirmed cases and 137,000 deaths.
Washington Post: America is running short on masks, gowns and gloves. Again.

CBS News: Nearly 84% of Florida's ICU beds are filled amid rising coronavirus cases

NPR: Florida Smashes U.S. State Record Of Daily New Cases: More Than 15,200

CNBC: CDC says 9% of meatpacking plant workers have been diagnosed with COVID-19

AP: WHO: Indoor airborne spread of coronavirus possible

NYT: Researchers around the world are developing more than 155 vaccines against the coronavirus; here is the vaccine tracker.
---
💰 Hamilton: the musical and the man
As a musical, Hamilton is all the rage. It became an institution by telling a uniquely American story, in a uniquely American theatrical form (the Broadway musical), in the vernacular of a uniquely Black American art form (hip hop). Speaking of writer Lin Manuel Miranda in an interview with Roland Martin (timestamp: 1:40:00), Hamilton actress Renee Elise Goldsberry says:
If I had to give one person credit, it would have to be the storyteller. I think it's beautiful to look at Lin Manuel Miranda and think about the power of perspective. This man is a fusion. He's a history geek. He's a hip hop head. He is a music theater geek. He's the son of a Puerto Rican family that got really deep into New York politics. He's a fusion of all of these things.
From its explicitly race-aware casting decisions to its mere passing references to slavery, Hamilton the musical displays the sheer power, possibilities and limitations of American myth-making. It has also elevated the profile of Hamilton, the man.
As an architect of building national economies, Alexander Hamilton has been largely forgotten—at least by Americans. The "free market" conceits of the present day bi-partisan economic consensus run in direct opposition to Hamilton's strategy for establishing America as an economic power. This strategy involved:
A central bank to consolidate debt incurred by individual states during the Revolutionary War and extend reliable credit in the fledgling republic

Import tariffs to raise revenue for the federal government and protect domestic industries from foreign competition

Direct public investments in building domestic infrastructure (e.g canals and railroads) and subsidies to domestic manufacturers
Hamilton knew British and other European manufacturers enjoyed tremendous support from their respective governments in the form of favorable law, policy and financial subsidies. He understood these countries didn't enjoy any natural advantage in manufacturing. On the contrary, such advantages were created and nurtured by governments. In her essay "The Rise of China and the Fall of the 'Free Trade' Myth," Pankaj Mishra writes:
[E]conomic history reveals that great economic powers have always become great because of activist states. Regardless of the mystical properties claimed for it, the invisible hand of self-interest depends on the visible and often heavy hand of government... The philosophical father of economic protectionism is, in fact, Alexander Hamilton, the founder of the American financial system, whose pupils included the Germans, the Japanese and, indirectly, the Chinese.
So the next time you see "Made in China" (or any other country) on something you buy, know that policymakers abroad are running the American playbook better than America.
Even worse, America has thrown out the playbook altogether. And Black workers have disproportionately suffered as a result. The erosion of the American manufacturing sector has been a major factor contributing to the decline of Black workers in high-wage unionized jobs.
Alexander Hamilton wrote the playbook for economic development. The question is will the country he wrote it for rediscover and implement the playbook? Or will that country merely be satisfied with streaming a musical on imported flatscreens?
---
🏛 Honor the Treaties
On the far end of the Trail of Tears was a promise. Forced to leave their ancestral lands in Georgia and Alabama, the Creek Nation received assurances that their new lands in the West would be secure forever. In exchange for ceding "all their land, East of the Mississippi river," the U. S. government agreed by treaty that "[t]he Creek country west of the Mississippi shall be solemnly guaranteed to the Creek Indians." Both parties settled on boundary lines for a new and "permanent home to the whole Creek nation," located in what is now Oklahoma. The government further promised that "[no] State or Territory [shall] ever have a right to pass laws for the government of such Indians, but they shall be allowed to govern themselves."
In a 5-4 decision the United States Supreme Court ruled that much of Northeastern Oklahoma, which includes most of the city of Tulsa, remains part of the Muscogee (Creek) Nation reservation. The Court found that Congress never disestablished the Creek Nation's reservation when Oklahoma became a state in 1907.
Oklahoma has no legal authority to prosecute Native Americans for crimes committed within the geographic borders of Creek Nation. To do so violates federal law and the Creek Nation's treaty rights.
The ruling also applies to the other members of the Five Tribes with identical treaties.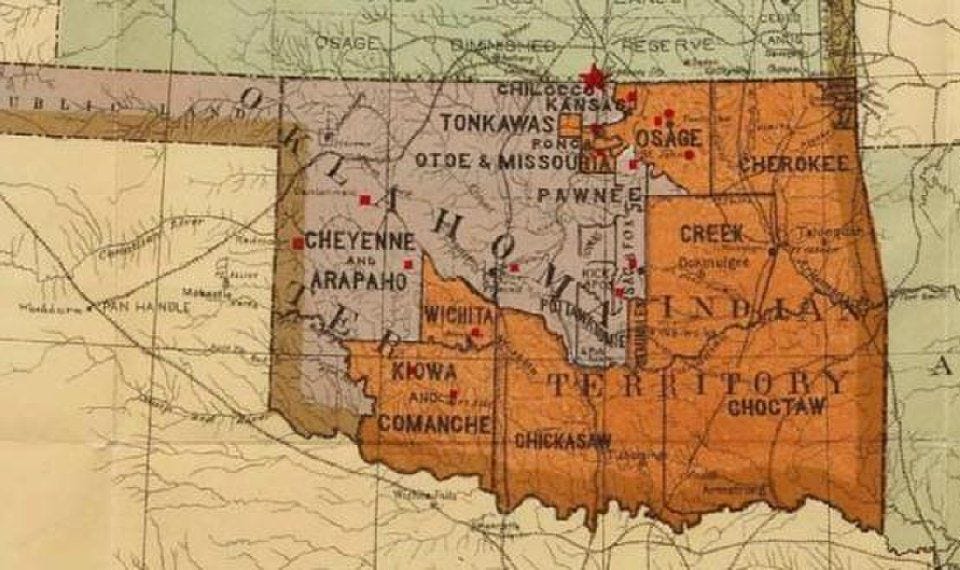 Critics believe that the Supreme Court's decision will have complicated legal ramifications from overturning criminal convictions to civil matters like taxation and zoning for decades to come.
Unlawful acts, performed long enough and with sufficient vigor, are never enough to amend the law. To hold otherwise would be to elevate the most brazen and longstanding injustices over the law, both rewarding wrong and failing those in the right.
With a history of reneging on its promises, the highest court of the land made good on its word. Let us be clear this case is not about ownership it is about jurisdiction. According to Stacy Leeds, a former Cherokee Nation Supreme Court justice:
Before McGirt, Oklahoma tried the overwhelming majority of criminal cases involving Native American defendants before Oklahoma judges and Oklahoma juries. The only exercise of tribal criminal jurisdiction Oklahoma seemed comfortable with was a small piece of the pie: Tribes could arrest tribal citizens on the few parcels of land that unquestionably remained under federal/tribal ownership and control. Under this scenario, tribes policed Native Americans on Native-owned land, but not inside Native "territory."

After McGirt, most felony cases with Native American defendants will be prosecuted by either the U.S. attorney or the tribal prosecutor, or both. Tribal courts will retain exclusive jurisdiction over lower level crimes. This means tribal judges and juries, as prescribed by tribal law, will be the ones to decide what happens to their citizens.
---
🏛 Contraceptive exemptions
This week the Supreme Court of the United States ruled that employers claiming a religious or moral objection do not have to cover birth control for their female employees.
Specifically, in the (consolidated) cases of Little Sisters of the Poor v. Pennsylvania and Trump v. Pennsylvania the court needed to resolve the issue of whether the government created lawful exemptions to the Patient Protection and Affordable Care Act of 2010 (ACA) which obligates covered employers to provide women with preventive care including health screenings without any cost sharing. The preventative care guidelines promoted by the Health Resources and Services Administration (HRSA), a part of the U.S. Department of Health and Human Services (HHS), are supposed to determine what specifically is included in "preventive care and screenings."
Although contraceptive coverage is not specifically mentioned in the ACA, the government mandated it by implementing and enforcing coverage via certain rules after the law passed.
The court ruled in a 7-2 decision religious exceptions to the contraceptive mandate were permissible. Writing for the majority, Justice Clarence Thomas argued that Congress failed to provide the protection for contraceptive coverage because while the Affordable Care Act mandated that insurers include preventive care and screenings as part of minimum essential coverage for Americans, it allowed HHS to define exactly which services qualify.
This decision will likely lead to a higher number of employers refusing to cover contraceptives, which will lead to more negative health outcomes in women of child bearing age.
However, SCOTUSblog asserts the battle over the contraceptive mandate and exemptions is far from over.
---
🏛 Trump's Day at the Supreme Court
A president, committees of the House of Representatives, a New York district attorney, and three banks all go to court… and the president sues in his personal capacity but cites immunity due to being president. So, how did we get here?
In 2019, New York County District Attorney Cyrus Vance Jr., subpoenaed Mazars USA, an accounting firm, for President Trump's financial documents, specifically his tax returns. Also in 2019, the House Committee on Financial Services, Permanent Select Committee on Intelligence, and the Committee on Oversight and Reform subpoenaed Mazars USA, Deutsche Bank, and Capital One, for nearly every financial document on President Trump, as well as his children and their businesses and organizations.
The President refused to release the documents to the House committees and to District Attorney Vance, and the House Committees and Vance subsequently subpoenaed the banks directly for the documents they requested. President Trump, in his personal capacity, sues the House committees, the banks, and District Attorney Vance in federal courts in Washington, DC, and New York.
The cases in which President Trump sued the House committees and the banks were consolidated into Trump v. Mazars USA, LLP and the matter against District Attorney Vance proceeded as Trump v. Vance.
In Mazars USA, the Court held 7-2 that separation of powers must be strongly weighed and considered in evaluating the properness of subpoenas between the legislative and judicial branches. The Court also seemed to suggest that subpoenas from the legislative branch should be issued for matters regarding the duties of the Office of the President rather than the period in which a president was a private citizen.
The Vance case marked the first time the Supreme Court ruled on whether or not the President of the United States can be subject to state criminal subpoenas. In ruling 7-2 that the president may be subpoenaed for state criminal matters, the Court opined that "the public has a right to every man's evidence."
While the overall outcome was 7-2, the Court unanimously rejected Trump's notion that the president enjoys "absolute immunity" while in office.
---
👀 Entanglement: The Rise of August Alsina
Last month, R&B singer August Alsina sat down with Angela Yee to discuss his new album (The Product III: stateofEMERGEncy), his five-part docuseries (stateofEMERGEncy: The Rise of August Alsina), and Jada Pinkett Smith (his first love).
Not only did August confirm that he and Jada were in a relationship (a fact that was widely assumed by their public appearances and his 2019 NunYa video) but August claimed that Will Smith gave his blessing:
I actually sat down with Will and had a conversation due to the transformation from their marriage to life partnership, that they have spoken on several times, not involving romanticism. He gave me his blessing.
Reps for Jada said that Alsina's claims were "absolutely not true."
Will declined to comment.
Two days later—in true Jada fashion—Jada announced that she was bringing "herself" to The Red Table, her... talk show... on Facebook Watch.
There's some healing that needs to happen…so I'm bringing myself to The Red Table.
(Black Twitter's reactions to this tweet are well worth the time.)
In the episode entitled "Jada Brings Herself to the Table," Jada and Will iron things out.
Variously referred to as an "entanglement" or "interaction," Jada's relationship with August occurred during a particularly difficult time in Will and Jada's marriage when they were all but divorced. (As you will recall from previous sessions at The Red Table, Will sees divorce as the ultimate failure.)
What began as their family's collective concern for August's physical health turned into a close friendship between Jada and August. (As you may know, the family came to know August because he was one of Jayden's friends.)
When asked by her husband what she was looking for with August, Jada answered both bluntly and cryptically:
I just wanted to feel good. It had been so long since I had just felt good. And it was really a joy to help heal somebody. I think that has a lot to do with my codependency, which is another thing that I had to learn to break in this cycle—just that idea of needing to fix and being drawn to people that need help, whether it is your health or whether it is your addictions. There is something about that childhood trauma that feels as though it can be fixed through fixing people versus fixing me. And I think that the whole process with Aug really showed me that and taught me that.
And that's pretty much how the whole session at The Red Table went: answers and non-answers that raise more questions. And while none of this is any of our business, this couple in particular seems to be building a streaming media empire around the inner details of their personal lives.
Jada and Will's open marriage made headlines because they talked about it publicly. Jada and August's relationship made headlines because August talked about it during an interview for his new album and autobiographical documentary. And we have a glimpse of Jada and Will's shared understanding of the matter of August Alsina because Jada has a talk show called Red Table Talk, a show that trades almost exclusively in the salacious: hot topics, "therapizing," and voyeurism. (Indeed, Aug was a guest at The Red Table back in 2018. The topic was addiction. The two were apparently dating at the time.)
One thing is clear: the well-crafted myth of Jada and Will's enlightened postmodern marriage has been brought crashing down to earth. (One need only look into Will's watery and faintly red eyes during the entirety of the 13-minute episode to get a sense of the rawness that yet lingers years later.)
Meanwhile, more people know who August Alsina is today than four weeks ago.
Jada apparently learned a lot too.
So it's not all bad.
---
Like what you see? Suggestions? Criticisms? Anything we missed? We'd love to hear from you!
Hit us up at inbox@thedossier.com.